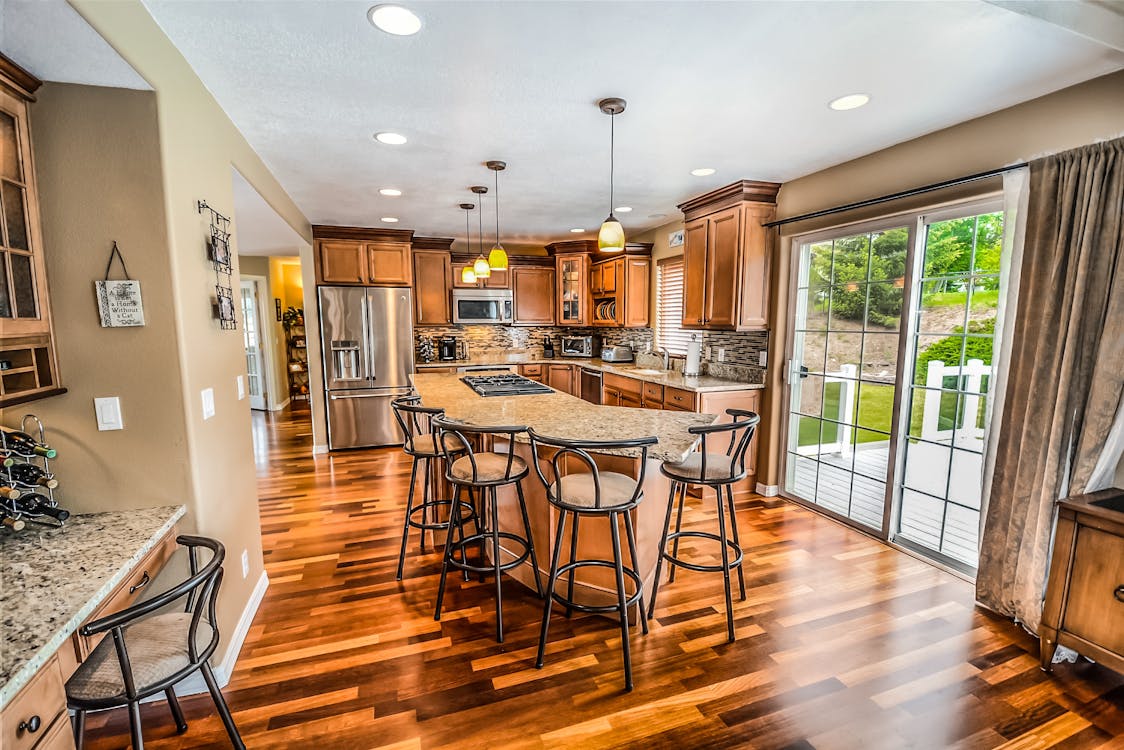 Whether your kitchen is state of the art with a central island, marble worktops and a stone floor, or a more traditional Shaker affair, I bet it is the room in your home where members of your family often congregate. This is one reason why your kitchen is the heart of the house, here are some others.
A place to cook
Yes, your kitchen is a place to cook, that goes without saying, but we have come a long way since the kitchen was a room, separated from the rest of the house probably by a door, where the lady of the house slaved over a hot stove to prepare the family meal. Kitchens today are more utilitarian in nature and are generally larger than in the past. This is because today, many houses are built without separate dining rooms, so having a place to eat has to be factored into designs.
A place to eat
Changes in the size and nature of the modern domestic kitchen, and the lack of a separate dining room means that a breakfast bar or space for a table and chairs is required. These make it possible for the family to occasionally sit down and eat together. The old adage, "A family that eats together stays together" has much to commend it, and we mustn't overlook the fact that the family dining table should be the place where children learn, not only about food and what is healthy but also table manners.
The family interchange
Of course, in today's busy world, where each member of the family works to their own daily schedule, it isn't always possible for them to sit down together. Instead, their paths cross as one comes into the kitchen and another goes out, but there is still time for a brief chat and a check that everyone is doing alright. This is often witnessed best at breakfast time as dad catches up with the newspaper, mum irons number one child's shirt for school, child number two makes toast and the older teenager pack up sandwiches for college. Imagine the noise level as they all battle against the clock.
A counselling space
I bet a pound to a penny, if you have an issue with a family member or they want to talk to you about something, you will head to the kitchen. After all, that is where the kettle probably is and there's nothing better than a cup of tea or coffee if it's time for a heart-to-heart. Lots of good advice has been given, and oceans of tears of joy and woe have been shed in kitchens.
A reception area and office
Which of you doesn't use your front door, except on holy days or holidays? People, whether they are friends calling for a catch-up, the courier delivering your latest mail order dream purchase or pesky canvassers, will probably come around to your back door, which invariably is where the kitchen is. Sitting in the kitchen is much less formal than going into the lounge and there is no need for shoes to come off to protect the pile on your carpet. Your kitchen likely houses the largest flat surface area in your home, an ideal place to wrap up parcels, set up your laptop, sewing machine or even press your laundry, with the help of a heatproof mat of course.
So, whilst your lounge, with its huge smart TV, comfortable suite and other soft furnishings is the ideal place to put your feet up and relax, it is simply not anywhere near as busy as your kitchen. That is why the kitchen is, undoubtedly, the heart of your home.